Saturday, April 8, 2017 at 7:32PM
Norfolk surgeon builds Red Baron Tri-plane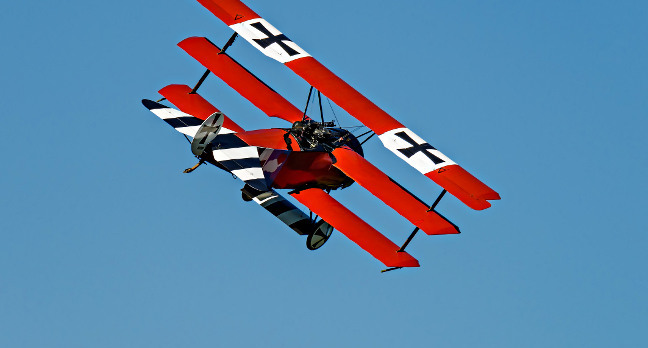 A German orthopaedic surgeon in Norfolk has spent £70,000 building himself a flyable full-size replica of the Red Baron's Fokker Triplane.
Dr Peter Brueggemann built the First World War-era aircraft by hand – even though when he started he couldn't fly.
The bright red Fokker Dreidecker I (German for "three-decker", or triplane) was built to a set of technical drawings prepared by an American aviation fanatic in the 1970s. No original Dr.Is exist, though a number of replicas have been put together during the 20th century.
Dr Brueggemann even acquired the title of baron from the Principality of Sealand, ready for when his Fokker makes its planned first flight this summer.
He told the telly station: "Being a surgeon has certainly helped and I have used surgical equipment like needles and forceps when stitching materials to the ribs of the plane."
The Fokker even has two replica Spandau machine guns fitted, as well as a modern Lycoming O-320 flat four engine for ease of maintenance and finding spare parts.
Brueggemann hopes to display the Fokker at airshows, particularly hoping to fly it at Stuttgart in his native Germany!
Larry
|
Post a Comment
|
in
History